You can use iPlayTo to play online media such as media on Youtube, Vimeo, SoundCloud, Dropbox, OneDrive, Google Drive, Google Photo, Facebook, Instagram, Flickr, etc.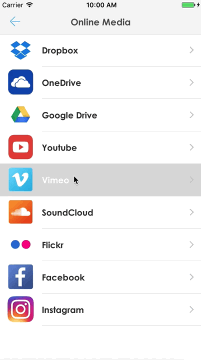 Media Playing
For some websites, the media url is a public one and can be accessed by your TV directly, and you can play them without downloading.
If your TV can't play it or shows error such as "Format not supported". You should download them to play.
Download
Swipe left on the media item and you will see the download button. There are 2 choices for downloading:
Save to "My Files"
The media will be downloaded and saved to "My Files\Downloaded" and played to your TV at last. You can browse, play or delete the downloaded file in "My Files" module.
Download and Play
The media will be downloaded to cache to play.
Media Qualities
Some websites have different qualities for a media, such as Youtube, Vimeo and Flickr. We will use configured media quality (in Settings view) as the default one, and you can change a media's quality by swiping left on the media item and tap the quality button.
Like & Comments
For some websites, you can swipe right on the media item to show Like and Comments button, with them you can like/unlike a media, or make comments on it.