You can use our app to play online media such as media on Youtube, Vimeo, SoundCloud, Dropbox, OneDrive, Google Drive, Facebook, Flickr, etc.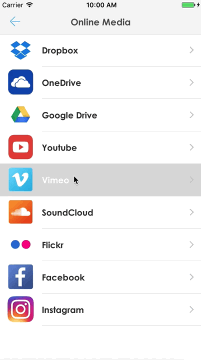 Media Playing
For some websites, the media url is a public one and can be accessed by your TV directly, then you can play them without downloading.
If your TV can't play it or shows error such as "Format not supported". You should download them to play.
If the downloaded media still can't be played by your TV, maybe your TV just doesn't support the media file formats, our app can't do anything in this case.
Download
Swipe left on the media item and you will see the download button. There are 2 choices for downloading:
Save to "My Files"
The media will be downloaded and saved to folder "My Files\Downloaded" and played to your TV at last. You can browse, play or delete the downloaded file in "My Files" module.
Download and Play (Local-Play)
The media will be downloaded to cache to play.
Media Qualities
Some websites have different qualities for a media, such as Youtube, Vimeo and Flickr. We will use configured media quality (in Settings view) as the default one, and you can change a media's quality by swiping left on the media item and tap the quality button.
Like & Comments
For some websites, you can swipe right on the media item to show Like and Comments button, with them you can like/unlike a media, or make comments on it.
Authorization & Security
Some web services require authentication to access your data or website's data. Please note that the authorization page is from the website, not from us. We are unable to obtain your personal information, especially your password. There's no needs to worry about this, of course you can refuse to authorize and don't use related functions.
More Online Services?
We can't support all of the world's online services, especially those don't provide interfaces for other apps to access their data. You can play their files if they support Files app (using Import feature in our "My Files" module), or visit their websites directly in our Web Media module then detect & play their media.