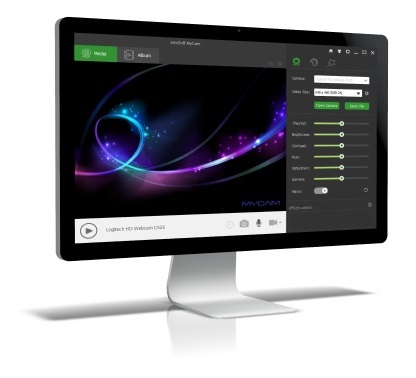 MyCam allows you to record videos and take pictures with your webcam, open image or video files and apply with amazing photo filters and video effects.
You can send the media files it created to your mobile phone using its "Album" feature and share with your friends, scan QR code or bar-code, or broadcast to a stream server.
MyCam is Easy-To-Use and Powerful. It's a "Camera" app, as well as a photo and video processing app with interesting features.
Download to have a wonderful experience right now!
USAGE
Have any questions? Please check the FAQs or contact us.
MAIN FEATURES
Record videos and take pictures with your webcam
Open and play image/video files
Take pictures (JPG/PNG), delayed shooting supported
Record video to MP4/GIF, with interesting sound effects
Amazing photo filters (3D LUT .CUBE file supported)
Wonderful video effects
GPU image processing, fast and higher quality
QR code and Barcode scan
Video broadcasting
Album to manage your media files
Send media to mobile phone
LICENSE
You can use MyCam for FREE, except that there is a "MyCam" watermark in its output images and videos if you applied with filters or effects. You may purchase to remove the watermark and use advanced features.
The purchased license is lifetime, and can be used to register up to 3 different PCs.