Play photos, videos and music from your iPhone/iPad to DLNA devices such as a Smart TV, TV Box, AV Device, Sound Box, PC, etc.
Easy to use, just pick your media and tap to play, only one single step to play it on your TV!
Anytime, anywhere, from any device – have fun with friends and family – with iPlayTo/TV Assist on your phone, you can play your favorite photos, videos and music in any way you want, such as to a TV nearby, so you can share those moments with everyone to see and hear.
It can also browse the media files on other DLNA devices such as your PC and play them on your TV!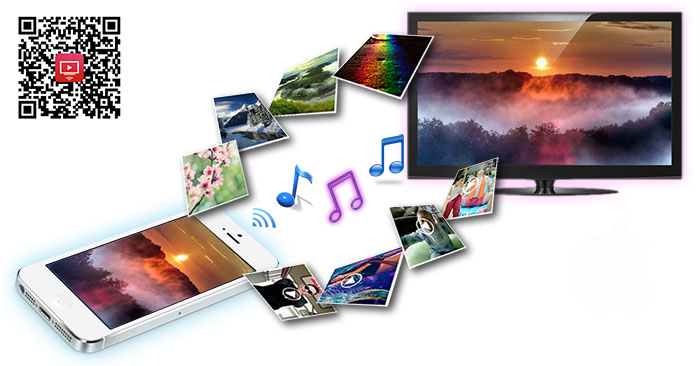 NOTE: iPlayTo is the paid version of TV Assist, and TV Assist is the free version of iPlayTo, they have almost the same features and the same price.
Download from Apple AppStore:
  TV Assist → free version
  iPlayTo    → paid version
WHAT USERS SAY
⭐⭐⭐⭐⭐
Great app, does what it says. Highly recommend.
Very useful app, it expands my TV functionality 😉 Like my favorite feature is when we can browse any online media on TV
I would recommend. Works immediately after installation without any unnecessary configuration.
Really easy to mirror on Samsung smart tv…
At last an app that works and allows me to connect my iPhone to my Samsung 4K. Nice and easy to use.
Very user friendly and very easy to connect with my media player.
Set up connected to my LG Smart TV straight away and easily
…
USAGE
FEATURES
Show photos on TV or other devices in many sizes to get the best experience;
Play video to TV or other devices in all qualities;
Play music to TV or other devices including its metadata;
Detect & Play media in web pages;
Browse the media on other DLNA devices and play them on your iPhone/iPad or on other players;
Upload files to your iPhone/iPad and play them;
"Painting" on TV;
Record video or audio and play them on TV;
Work as a renderer, so other devices can play media to your iPhone/iPad;
Work as a server, so other devices can browse the media on your iPhone/iPad.