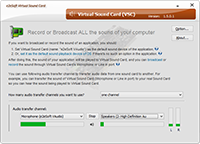 e2eSoft VSC is a Sound Card Emulator, which emulates a sound card in your system and works like a real one. You can use it to record, modify or broadcast all the sound in your system.
You can also use it to create numbers of Virtual Sound Card instances to fulfill your special requirements.
– Record audio – Stream audio – Broadcast audio – Change voice –
Download and install a fake sound card to have a wonderful experience right now!

Download  Purchase  

Other Downloads: Dropbox

Want to add "virtual sound card"  feature to your applications? you can try our VSC SDK.
USAGE
MAIN FEATURES
Record / Broadcast the sound of all applications;
Record / Broadcast the sound of all applications and your MIC voice at the same time (mixed or not);.
Record online chatting / meeting voice, such as skype conversation, with peoples and your voice mixed together or separated;
Record DRM-protected music, media;
Record the audio of video/audio file, online video/music, etc;
Change your voice to a man, woman or even a child using "pitch control" feature;
Pure digital data transfer, NO audio quality loss.
Command line support;
Supports both 32bits/64bits OS;
More wonderful usage waiting for you to discover!
SYSTEM REQUIREMENTS
IBM PC Pentium processor, 128 MB RAM, 10MB hard disk space;
Windows OS;

NOTE:
There's a noise (female voice) in trial version, it's not a bug! You can purchase the product to remove it.
Tips:
You can run VSC with command line parameter "/m" to make it minimized on start, "/r"to start audio transfer automatically.