Description
Attention
There are two ways to purchase iVCam:
Purchase App:
Purchase the iOS version from the Apple App Store or the Android version from the Google Store.


Pros: The app is free to connect to any iVCam PC.

Purchase PC client:
Buy it on this page;


Pros: The PC client can accept iVCam app connection from any iPhone or Android phone for free.
You can choose which one to buy according to your needs.
How to register?
There's a
Register
item in iVCam's main menu, choose it to show the registration window and enter the license code you purchased to register the PC client software.
You can also press Ctrl + B to show the registration window.
You will see "(full version)" after the version number in the About dialog after successful registration.
Registration
The registration can remove the "

iVCam

" and "

TRIAL

" watermarks, as well as the

ads

, and enable all features
The app can remove the ads and use all features only after it is connected to the registered PC client
The license code can only be used for

1

PC at the same time
One license code can register up to

2

different PCs, and they can use this software at the same time
The license code is valid for life. You can Re-register with it any times on the same PC (hardware for example MAC address changes will be treated as a new PC)
The registration can be

cancelled

. Uninstall the software from the registered PC to

deregister

so it can be used again on another PC (Internet connection required)
To prevent registration failure due to hardware changes when reinstalling the OS, it is recommended to uninstall the software to

deregister

it before reinstalling the OS
To prevent registration failure due to a typo, it is recommended to copy and paste the license code into the registration window
The PC needs to be connected to the Internet during the registration. Allow the program to use the network in firewall settings, and you can enable/disable the proxy if registration failed and you're using a network proxy
Please contact us if you need the enterprise license code which can register more PCs.
Payment
We support kinds of payment methods such as Paypal, Credit Card, Alipay and WeChat.
The license code will be sent to the email you left in the order immediately after payment, and will also be displayed in the order details, as shown below (please refresh the page if not displayed):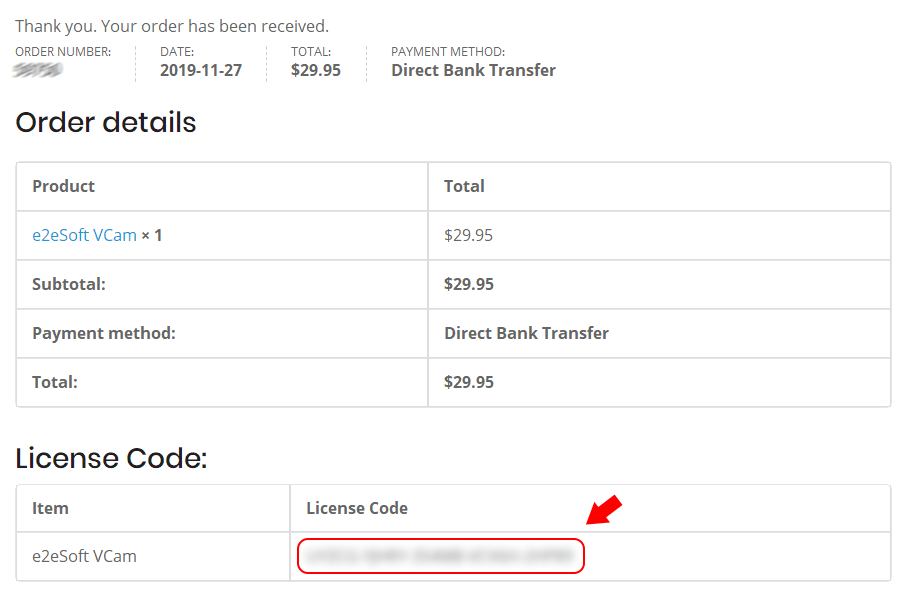 Please contact us if you have any questions, and tell us your order no if you've placed an order.
Statement
The software can be downloaded for free trial, please try it before purchasing, there is no difference in functions between trial version and registered version
Refund will not be accepted once the license code has been successfully registered
We only provide after-sales service related to the license code. For software usage, please refer to the related tutorials on our website.