What is DLNA?
DLNA is an industry-wide standard for sharing digital media – such as photos, videos and music – between computers, mobile phones, TVs and other devices in your home.
Find out more with What is DLNA?.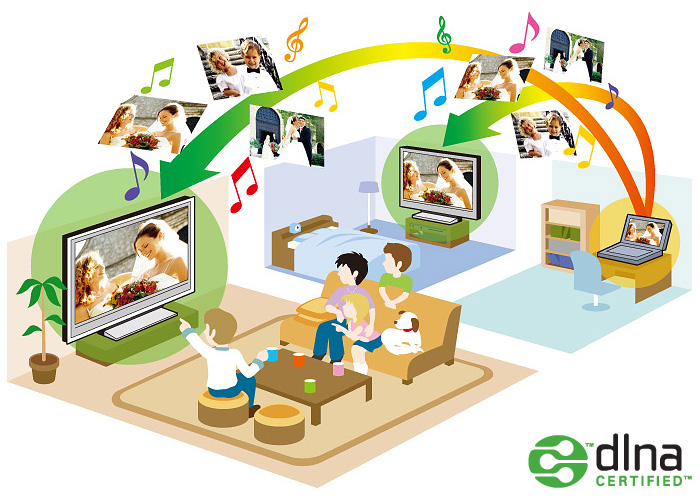 How it works
DLNA separates multimedia devices into 10 certified classes, subdivided into three broad categories: Home Network Devices (PCs, TVs, AV receivers, game consoles), Mobile Handheld Devices (smartphones, tablets, digital cameras), and Home Infrastructure Devices (routers and hubs).
A device's class is determined by its functional capabilities—whether it stores, controls, or plays media—rather than the type of product it is. So it's possible (even common) for a device to fall into more than one class. Some DLNA-certified TVs, for example, can be classified as both a Digital Media Player—meaning it can locate and play media from other devices—and a Digital Media Renderer—because media can be pushed to it by an external controlling device.
A modern AV receiver that supports DLNA can stream movies, music, and digital photos from a storage device attached to your home network to your smart TV.
All DLNA-certified devices use Universal Plug and Play (UPnP) to discover and talk to each other on the network. When you connect one to your router, it should automatically appear on any other DLNA-certified component's menu without needing you to perform any setup.
In a typical scenario, you might have a PC running DLNA-certified software that transforms it into a media server. Your DLNA-certified player—a TV or game console, for example—would be able to browse the content on the PC and stream it. Alternatively, a controller, such as a tablet or smartphone, could discover the content on the PC and tell the TV to play it back.
Terminology
DLNA
Digital Living Network Appliance. A media sharing device that uses standard computer networking protocols.
DMS
Digital Media Server. Software or a device that can serve media files to other devices on a network.
DMP
Digital Media Player. Software or a device that can play media files from a DLNA server (DLNA-DMS).
DMC
Digital Media Controller. This is a Digital Media Server that can also "push" files to compatible devices. The server software can instruct a compatible device which media files to play.
DMR
Digital Media Renderer. This is a device that can receive commands from a Digital Media Controller. DMC compatible server software can instruct a DMR which media files to play. A DMR also features the functionality of a Digital Media Player.
iPlayTo / TV Assist
Our app supports DLNA very well, and it works as a DMS – serve your phone's media files to other devices, a DMR – receive commands from other devices and plays media, and a DMC – "push" one device's files to another device.
You will use it as a DMC in most cases.