Our app can work as a Digital Media Controller (DMC). In this case, you can use it to browse and play the media files on a Digital Media Server (DMS), such as your phone (on which our app works as a media server), your PC or your NAS, etc. You can play them locally or to a remote media player such as your TV (DMP/DMR).
Select Media Server
You can choose which server to use by tapping the server name in the navigation bar if there're more than one servers detected: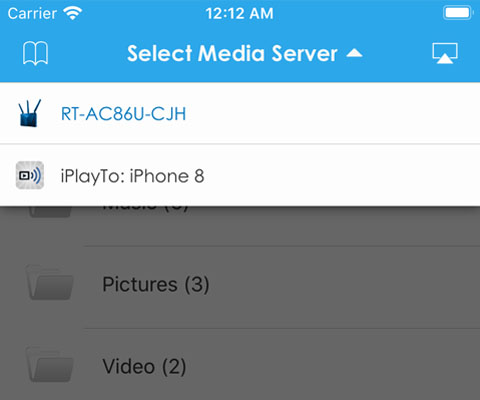 The server will be selected automatically if there's only one detected.
Favorites Folder
Swipe left on a folder item to add it to favorites folders, so you can easily access it next time without entering many levels.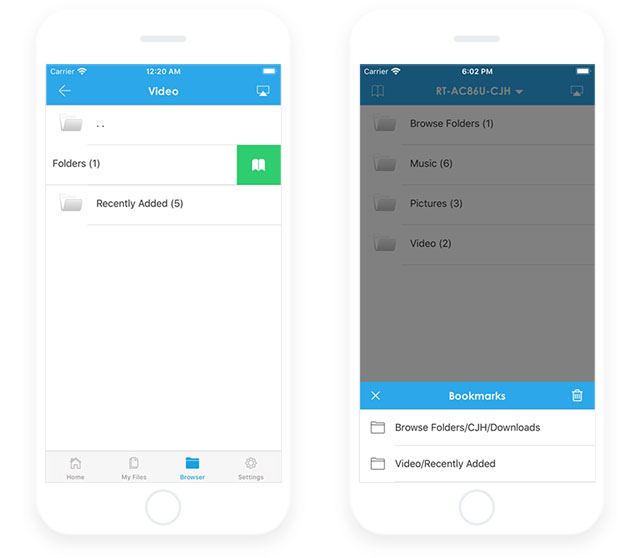 Tap the book button in the left of navigation bar to select a favorites folder when in root folder.
Swipe left on an item in the folder selection view to remove it from favorites folders.
Browsing
It works just like a regular file manager, and you can tap a media item to play it on your TV, or locally, based on the player you selected.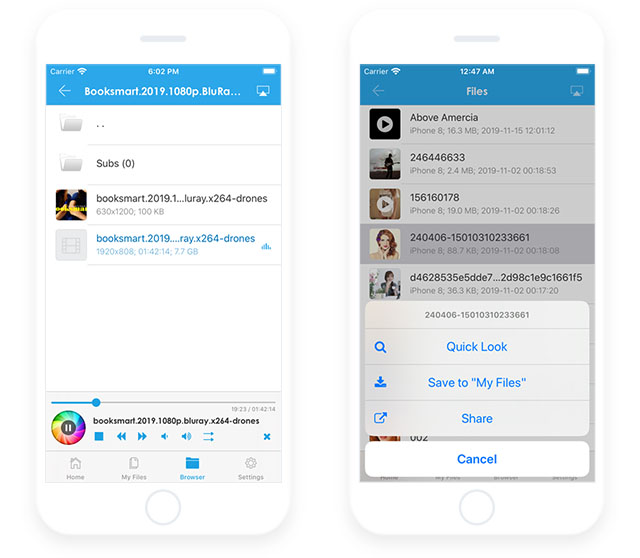 Long press on a media item to show the action menu, using which you can quick-preview the media file, save it to My Files, or share it. Swiping left on a media item can show the download button .
Auto-Play
Tap a photo item twice will start slideshow – the photos will be played one by one automatically, and tap any other item or stop button will stop the slideshow.
The video and music item will be played one by one automatically by default, and you can change the playing order via the play-mode button in the Control Panel.
Local Playing
Tap the cast button in the upper right corner to select media player, select your phone as player to play the media locally.
We can only play media files supported by iOS, and for videos, it means MP4, MOV and TS formats.
Special Note
For performance reason, the feature "Work as a Media Server" is disabled by default, so when you browse our own server there's only a folder named "NO CONTENT", enable this option in Settings > Work as a Media Server to show all content;
Free vesion app (

TV Assist

)  only supports up to 20 items when working as a server, purchase to show all the media items;
Google "how to enable DLNA for windows" to enable DLNA for Windows PC so you can browse and play the media files on your PC.