You can select and view system photos in our app, just like using the Photos app – grouped by Years, Moments, or by different Albums.
Show Photos
Select a photo in the collection view to show it on your TV, and swipe to switch between photos in the current collection.

Here you can change the displaying size of photos, slideshow interval and play slideshows.
We always show the edited photo instead of the original one if you have modified the photo.
Change the Send "STOP" before Playing option in the settings if the photo can't be automatically displayed when switching to a new one.
Photo Size
Choose a Photo Size to change the photo displaying size to make it more suitable for your TV screen.
For small images, using the Original photo size will not fill the screen for some TVs, while using other sizes (same as your TV) will resize it to fill the TV screen:

Try other photo sizes if the Original one doesn't work for your TV.
Smaller photo sizes speed up the transfer, so we recommend using the smallest possible size.
We suggest using 4K photo size for 4K TV and 1080p for 1080p TV, and so on.
We will not resize GIF images no matter what the photo size setting is.

Trust me, if it's too slow to transfer a photo, it's your TV's problem, not our app's

☺
You can try using different photo sizes to see which one is best for your TV.
Portrait Photos
For portrait photos, place the phone vertically to display the full photo to fit the TV screen, and place the phone horizontally to display the photo to fill the TV screen (the top and bottom of the photo may be cropped).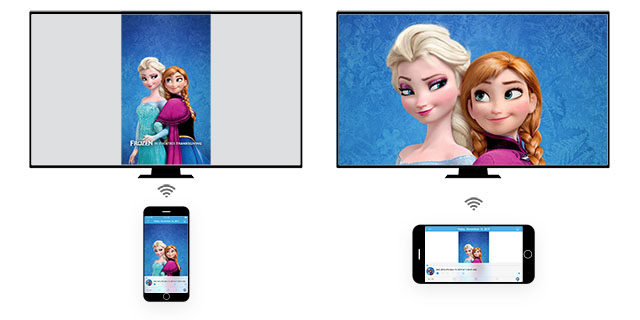 This is only available when the Photo Size setting was set to something other than Original.
If your TV does not support vertical photos and displays them horizontally, using different photo sizes will also "rotate" and display them correctly on the TV.
Slideshow
Slideshow will display your photos on TV one by one automatically.
Some TVs take too long time to transfer a photo, and in this case slideshow can't work properly, you can choose a larger slideshow interval and try again.
Playing Control
Tap the thumbnail button on the far right of the toolbar to show/hide the Control Panel, using which you can control the playing such as STOP the displaying.