Starting from version 7.0, iVCam has added the intelligent background removal function (for human objects), you can blur the video background, bokeh, etc., or replace the background with any picture or video without using a green screen.
System Requirements Win 10 and above; DirectX 12 capable graphics cards (laggy if not good enough).
NOTE: You can select an independent graphics card (if there're more than one) for video decoding and background removal at "Settings > Miscs > Preferred GPU".
Using it is very simple, just select the processing method in the context menu of iVCam: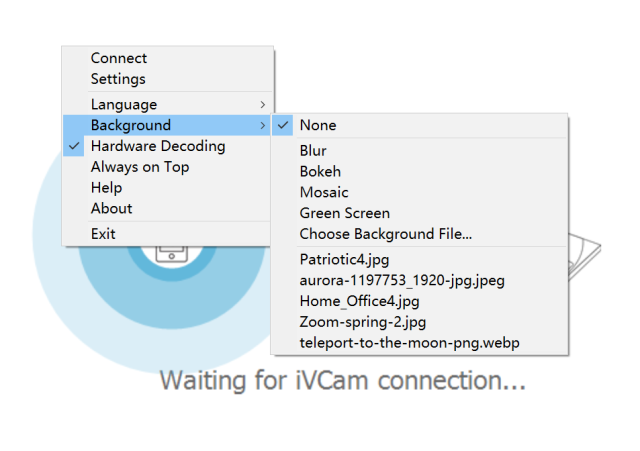 NOTE: The menu item will not be displayed if the graphics card is not supported, and disabled after the trial expires.
Background removal methods

Blur
Blur the video background with the Gaussian Blur effect.
Bokeh
Simulates the large aperture background blur effect of a SLR camera.
Mosaic
Mosaic the background.
Green Screen
Replace the background with a green screen for easy green screen keying in other applications.
Background File
Use a picture or video file as the video background, the 5 most recently used files will be saved in the menu.
NOTE: If you cannot use video files as background, please install a suitable video codec such as LAVFilters.
If you selected the Blur, Bokeh or Mosaic effects, you can also adjust the strength of these effects in the Camera Settings window: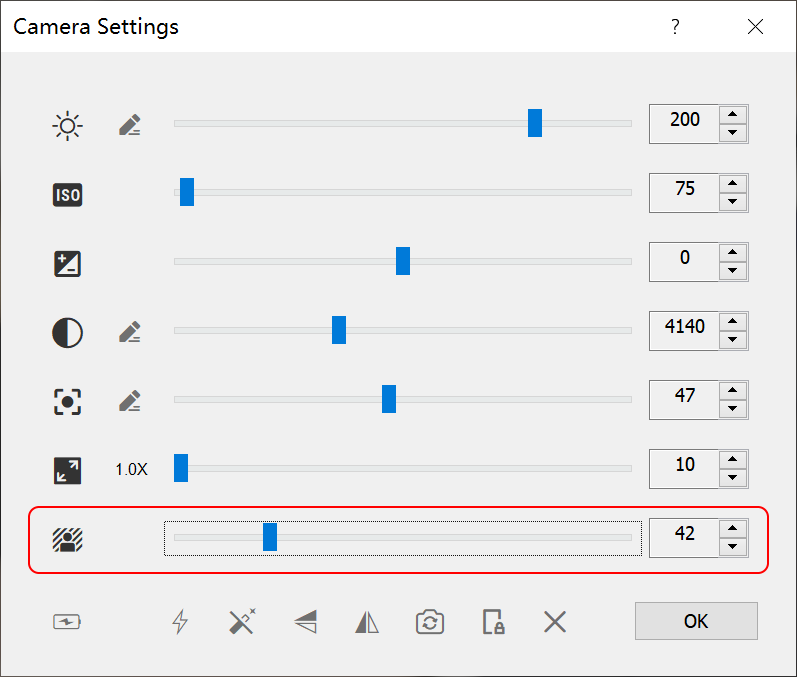 Additional Notes
When replacing the background with a video file, iVCam will decide how to play the video's sound according to your settings ("Audio\Playback Devices" in the Settings). If you want to use the opposite option, such as playing sound in the settings but don't want to play the sound of the background video file, you can hold down the SHIFT key while selecting the video file, and vice versa;
When recording video files with iVCam, only the original video with background is recorded, but the photos taken are the processed ones. If you want to record the video with background replaced, please use other software that can record camera video, such as our MyCam, WeCam, etc.;
After the trial expires, you need to purchase it to continue using the "Background Removal" feature.