iVCam can transfer video from mobile phone to PC via USB connection, which is more stable and fast.


iOS
First, please make sure that the
latest
or
earlier
version of
iTunes
is installed on your PC, and you can
see
your phone in iTunes after connecting it to PC via USB (check
here
if you can't see it).
After connecting the phone to PC via USB cable, iVCam will automatically connect and transfer video via USB.
NOTE:
If the USB does not work properly, make sure the Apple Device Driver has been successfully installed and the Apple Application Support service is enabled.
If the connection is frequently disconnected, please make sure you have the latest iTunes installed, and try changing the USB cable or USB port. Also make sure other software that may be connected to your phone via USB cable is not running, such as 3uTools, etc. (uninstall it and restart your computer if necessary). If not, try to use smaller video size, frame rate and lower video quality, whether using USB or Wi-Fi, this kind of disconnection is usually a hardware problem.
Android
USB Driver
If your phone can't be recognized after connecting to your PC, please install the phone's USB driver. You can directly install the official mobile assistant software, or download it here or search according to your mobile phone brand, for example, searching "Android USB Driver for Samsung".
After installing the driver, connect your phone to your PC and it will be recognized as a USB storage or Media device based on your selection.
USB Debugging
On your phone side, enable the USB Debugging option under Settings > Developer options.
For Android 4.2 and newer, Developer options is hidden by default. Show it using the following steps:
On the device, go to Settings > About <device>.
Tap the Build number 7 times to make Settings > Developer options available.
Then enable the USB Debugging option.
Google "Enable USB Debugging on the Android Device" for more details if you don't know how to do that.
Tip: You might also want to enable the Stay awake option, to prevent your Android device from sleeping while plugged into the USB port.
USB mode
When the USB cable is plugged in, select using USB for Transfer files (MTP) or Transfer photos (PTP).
Run iVCam PC client and wait for a while. If the phone is connected for the first time, it will prompt you to allow USB debugging: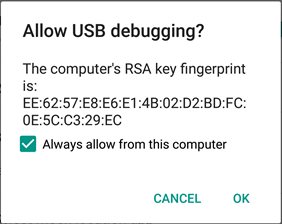 Select OK to make it work.
Note: This step is necessary. Google for help if this prompt doesn't show on your phone.
iVCam
If the phone is properly configured and connected to the PC with a USB cable in USB debugging mode, iVCam will automatically connect and transfer video via USB.