This article will explain the sound features of iVCam.
APP
---
Audio Recording
In the Settings > Audio Recording of iVCam APP, you can set whether to record the sound of microphone, mono or stereo (not all mobile phones support stereo recording), the recorded sound will be transmitted to the iVCam PC client. Select none to not record sound.
iOS:
Make sure that iVCam is allowed to use the microphone – iOS Settings > iVCam > Microphone .
Sound quality
The sound quality is bound to the video quality, for example, high-quality video corresponds to high-quality sound.
The sound recording configuration used when selecting stereo in different qualities:
| | |
| --- | --- |
| High quality | 48k Hz, 128 kbps |
| Medium quality | 44.1k Hz, 96 kbps |
| Low quality | 16k Hz, 64 kbps |
NOTE: You can only use low-quality audio when trial expired.
PC Client
---
Settings – General – Audio
There are 2 audio options in the Settings of iVCam PC client:
Recording Device
Set where to record the audio when recording video on the PC.
It can be the sound of your mobile phone microphone (from iVCam APP) or the sound of your PC's built-in microphone, or nothing.
Playback Device
Set where to play the sound from iVCam APP.
Select your PC speaker or earphone here if you want to hear the sound, or choose mute if you don't want to hear it.
Microphone
Starting from version 6.0, iVCam PC client has added the function of built-in microphone, which is used to directly use the phone microphone as a PC microphone (previously it needs to be combined with our virtual sound card software).
When installing iVCam, you can choose whether to install microphone (selected by default), the iVCam microphone driver will not be installed on your computer if you don't choose it, and you will not be able to use this feature.
After the installation, you will see a sound device named e2eSoft iVCam in the system's Device Manager \ Sound, video and game controllers: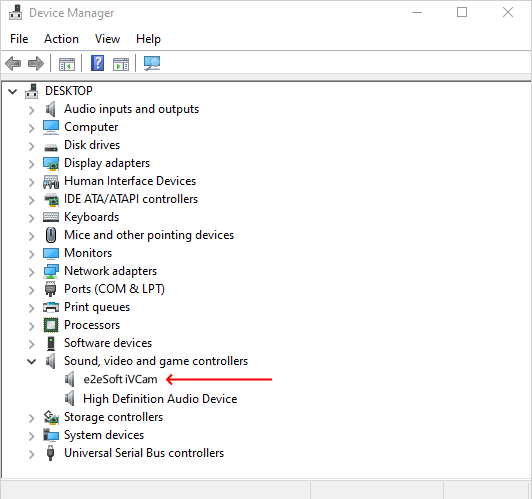 You can right click on it and choose "Disable" or "Uninstall" in the pop-up menu if you don't want iVCam microphone after installing it.
The default name of the iVCam microphone is "Microphone (e2eSoft iVCam)", and you can see it in the Recording page of the system's Sound Control Panel. It can be used as a recording device in other applications.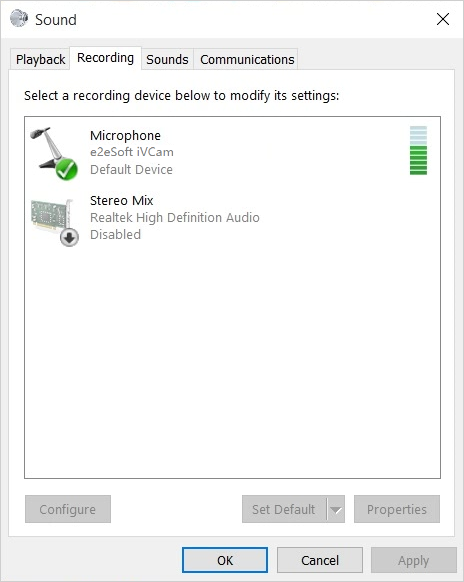 If you can only use the iVCam microphone instead of the original microphone in other applications after installing iVCam, please select the microphone you want to use in the settings of that application. If there's no such an option, please go to the Recording page of system Sound Control Panel and set the device you want to use as the default recording device so that other applications will use it as the recording device by default.
iVCam will not affect any function of your original microphone, not to mention "hijack" it, 🙂