iVCam is designed to be simple and powerful inside. Most of its features are clear, while some features are not. Here're some feature descriptions and tips for it.
PC Client Software
---
Zoom in/out and Manual Focus
You can use mouse wheel on video or press "CTRL+" / "CTRL-" to zoom in or zoom out, and click on video to change focus, just like using on the phone side.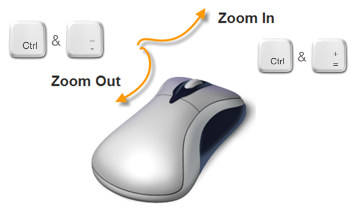 Generate Log
If you still can't get it working after trying all the methods mentioned on our website, you can run it in debug mode by running the following command from system command line (use your iVCam installation folder accordingly):
"C:\Program Files (x86)\e2eSoft\iVCam\iVCam.exe" /debug
Open the phone app and try to connect, then close the client software and send the generated log file (d:\ivcam.log or c:\ivcam.log) to us via email (e2esoft_ivcamoutlook.com) for investigation, thanks.
APP Related
---
Manual Focus and Auto Focus
It works the same way as the "Camera" app. Tap screen to use "Manual Focus", and move the phone wide range to change back to "Auto Focus" mode. In manual focus mode, it will adjust the exposure time automatically based on the zone you tapped, and you can change it manually as well (see below).
Adjust Exposure time
Swipe up or down on video to adjust exposure time.

Adjust camera ISO
Swipe left or right on video to adjust ISO value.


Zoom in/out
You can zoom in/out the video just like using the "Camera" app.

Save battery power
iVCam app will close video and show black screen to save battery power after a while if there's no user actions (transfer will still work). You can tap it to show the video again, but this time it will keep showing the video without closing it and showing black screen.
Using different MIC (iOS only)
iPhone has several microphones , and iVCam will use the default one (bottom) at first. When the button was tapped to change camera, iVCam will change MIC accordingly – front MIC for front camera, and back MIC for back camera.
Network signal
There's a network signal icon on iVCam video. It means that your phone's network is not good enough to transfer video if it's not full, and the video frames will be dropped sometimes in this case to keep the video transferring in time.
Reconnecting
You can re-search the iVCam PC to connect and transfer video by tapping the refresh button in the main view.
Bonjour service
iVCam uses Bonjour service to detect PC, but it will still work if there's no Bonjour service installed on your PC – It will try to use UDP broadcast to find your PC. So, please ensure that at least one of them is available on your PC.
Free version limitation
You are free to try all its features, except that there's an "iVCam" watermark on the video (as well as a "TRIAL" watermark in the middle after a period of use), and ads appear sometimes.
Some features such as video sizes larger than 640×480 will be unavailable after some time. Please purchase the full version to remove watermarks, ads and use all its features.