Why buy a webcam since you already have a Mobile Phone or Pad?
iVCam turns your Phone/Pad into an HD webcam for Windows PC, which has a much better quality than most webcams and is compatible with all webcam-enabled applications. Replace your USB webcam or integrated webcam now with your Phone/Pad! It's also a perfect baby monitor, spy-cam, security camera and pet-cam.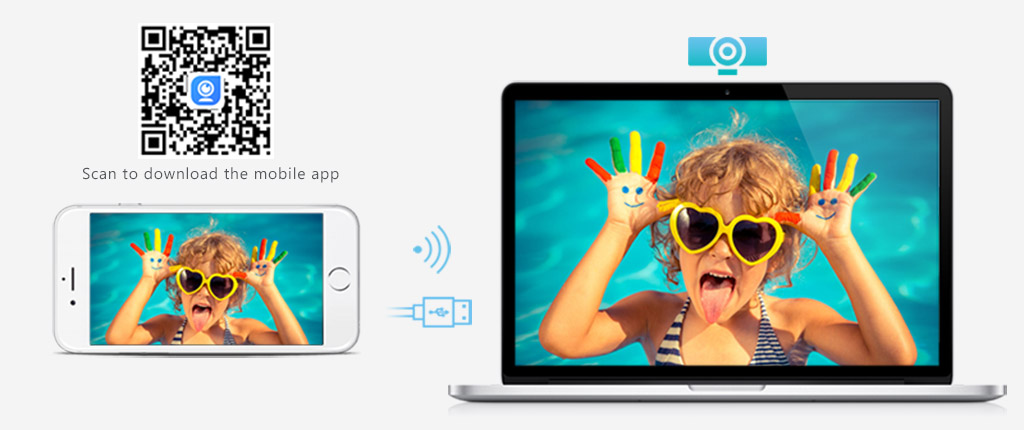 Download Windows Client Software:



Full edition: #1: x64, x86 | #2: x64, x86 | v7.0.4 | Windows 10 / 11
Standard edition: #1: x64, x86 | #2: x64, x86 | v7.0.4 | Windows 7 / 8 / 10 / 11
Old version: #1: x64, x86 | #2: x64, x86 | v6.2.5 | Windows 7 / 8 / 10 / 11, iOS 9 / 10 / 11
NOTE iVCam has 2 installation packages: Full edition with background removal feature (only for Win 10/11), and Standard edition without it, users who do not need it or use Win 7/8 can download this edition which has a smaller size.
Download App :
WHAT USERS SAY
⭐⭐⭐⭐⭐
Great app, does what it says. Highly recommend.
Better than any other vidcam app on the Store
I love this app way more then the other webcam phone apps ☺️
Works amazing, Great app does exactly what it says it does
Portrait mode is good and the latency is fantastic.
Amazing, easier to use than an actual webcam and probably better quality than regular cams.
Free, and better than my laptop camera. I use it for streaming and it works great!!
…
FEATURES
High-quality, real-time video with low latency and fast speed
Running in background, does not affect the use of other apps ()
Connect multiple devices to one PC at the same time
Support common video sizes such as 4K, 2K, 1080p, 720p, 480p, 360p, etc.
Advanced camera settings – AE/AF, ISO, EC, WB and Zooming
Configurable for video frame rate, quality and encoder
Landscape and Portrait mode supported
Support front/rear, wide angle/telephoto cameras and real-time switching
Support for face beautify, flash, manual/auto focus and video flip/mirror
Background replacement – Blur, Bokeh, Mosaic, Green Screen and more
Audio supported, use your smartphone as a wireless microphone for PC
Completely replaces USB webcam or integrated webcam, compatible with most applications using webcam
Preview video, take pictures and record video files with our Windows client software
USAGE
Have any questions? Please check the
FAQs
or
contact us
.